Presenting at international gaming conferences and kongresses
For several years we have presented both responsible gaming and sustainability at conferences and congresses organised by the World Lottery Association, European Lotteries and PAF.

Zenita presented Svenska Spel's work on gender equality at the European Lottery's CSR / RG Seminar in Madrid 2017.

Monica presented Svenska Spel's work with the Sustainable Development Goals at the European Lottery's CSR / RG Seminar in Lisbon 2018.
The Swedish Gambling Award 21 March 2019
Glad and proud winners in the Sustainable Leadership category. We would like to thank both the jury and those in the gaming industry, and of course we will continue to contribute to a sustainable gaming environment!
Read the jury's "deliberation": https://bit.ly/2JIzsDH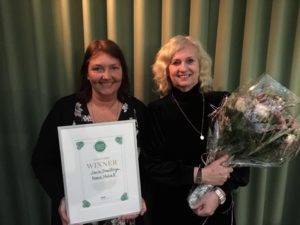 Our partners
We are proud partners with Pollard Banknote in Canada, ATG in Stockholm and Wisby Strand in Visby (Gotland, Sweden). Our mission is to have a wide and diverse international presence.